Zebra Mice
Proper Feeding of Zebra Mice
Basic Food
Wild zebra mice are not specialized in any plant or seeds. They eat whatever they can find. Sometimes they catch an insect or a maggot in order to fill the need for animal protein. Because of this, the diet of the wild zebra mice is very various and this should be taken into consideration when planning the diet of your pet zebra mouse. Wrong or unilateral diet can cause many deficiency diseases, from which the animals then have to suffer from.
Good base for a diet are mouse/rat lab blocks (= processed whole food pellets), which contain all nutrients, vitamins, minerals and trace elements your little pet need and in the right proportions.
Furthermore, every bit tastes the same, so your zebra can't just choose the best bits out. If your zebra mice won't eat lab blocks, please do not try to force them to.
Another good base is different kinds of seed mixes, available from all pet shops. You should check closely the quality of the seed mix, so you don't feed your mice worthless sunflower seed-nut -mixes. Even to the best of mixes you should add oats (1-dl oats to 1-l seed mix or 1/10 to 10/10). Check also the chart!
Water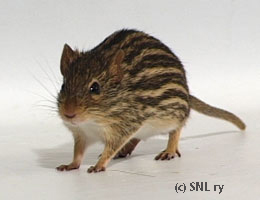 Zebra mouse Paavo
o. Katri Pohjanvaara, pic: Arttu Väisälä
Water, the elixir of life, is now mentioned separately, because it is vital for the well being of your zebra mouse. There has to be water available at all times, fresh and clean in a clean water bottle!
In this connection we should also mention different vitamins that are easy to give to your zebra mice mixed in with water. Important vitamins for a zebra mice are Vitamins A, B, C, D, E and K (remember to watch out for overdose of Vitamins A, D, E and K, because they are fat dissolving and in the long run they get stored in the body). Also, check the best before date of the vitamin bottle. This date gives the date until which the producer guarantees that the contents of the bottle are as mentioned on the label. It does not necessarily mean that the product has gone "bad" after the date, however!
Furthermore, to be on the safe side - do not buy a bottle of vitamins without any best before dates mentioned.
Additional Food
Certainly your zebra needs other stuff as well to fill its tummy. Here's a little list of additional foods you can vary and make up a diet that your little piggy (Babe!!) loves the most.
As the most important additional food we will mention hay. First of all it is good for the digestion, secondly zebra mice really love it. You can see that from the way they eat hay; first they cut the hay in short pieces, then they split the pieces in half and devour the insides. After that they haul the hay (or what there is left of it) into the nest! If possible, check the quality of the hay before buying it. Good hay has a pleasant smell to it. It must not be dusty or moldy, or have an unpleasant smell to it. Moldy or dirty hay can harm your pet.
Zebra mouse buck
o. Katri Pohjanvaara, pic: Anniina Tuura
All edible fresh berries, vegetables, roots, fruits, twigs, buds, sprouts, cones, acorns, seeds of peaches and plums, pieces of wood, nontoxic mushrooms, grass, hay, other plants and their flowers, sweet roots, etc etc etc. The list goes on and on, but all EDIBLE stuff from the nature's own resources suit your pet and give them plenty of fun. What ever you collect from the nature, always be sure that the area you collect from is free of pollution, pesticides or other poisons. Also, make sure that the plants you gather aren't poisonous or contain harmful substances. Do not pick up anything you do not know for sure to be nonpoisonous!
Home cooked food and baby-food offer nice change and especially baby food contains a lot of vitamins. Therefore, you should give it every once in a while. Dried branches of trees with leaves give your pets lots of nutrients and make them happy.
Dry dog or cat foods as well as biscuits contain animal protein, which the zebra mice need in order to thrive. Especially pregnant and nursing females need these in larger amounts. You can also prepare piece of boiled chicken, heart or other lean meat. Meat and similar food should never be too spicy or salty!
"Snack sticks", seed bars, carrot sticks, yoghourt drops and other similar treats from the pet shops are tasty additions to the diet. Actually, you couldn't call them part of the diet, because their nutritional value is minimal. Sticks and bars do offer something to gnaw for the ever-growing teeth of zebra mice.
Calcium stone is necessary, especially for young, growing individual and pregnant and nursing females. Other good sources of calcium are egg shells and zebra mice love to gnaw them. Eggs also taste good in zebra mice's opinion!
In addition to normal feeding program you can give your stripy friend hard-boiled egg yolk. It does contain lots of fat, but in a small amount it is healthy.
What Else?
When preparing homemade food for your stripies, remember the following fact: zebras love it even more, if you mix a little bit of cooking oil in it.
Zebra mice love all kinds of flakes, like oat flakes. They definitely love wheat "hearts", which also do good for the coat as well!
Vitamin E affects fertility, so if you wish to have a large litter - remember this hint.
Stripies love to stash their food under the beddings, so if you find their food bowl empty soon after feeding time, there is no use of adding more food. NOTE: After giving your zebra mice fresh food, check where they stash it. If you do not remove the left overs the next day, they will rot!
Zebra mouse buck
o. Katri Pohjanvaara, pic: Anniina Tuura
Mice like daily routines. Feed them every day at the same time, so your zebra will get used to the feeding time and will wait for your arrival. This is beneficial both for your mice and yourself, because this way you will not forget feeding them that easily.
Vegetables and fruits must be fresh. Wash them thoroughly, because pesticides and preservatives, as well as food spoiled by other animals cause easily illnesses and poisonings. You should also always dry the vegetables and fruits before serving them - never serve them wet. Dried leftovers should be removed from the tank.
CONTENTS OF A SEED MIX - Proportions of mix and nutrients in %
| | | | | | |
| --- | --- | --- | --- | --- | --- |
| | amount % | fat | carbohydrate | protein | minerals |
| wheat | 20 | 2 | 70 | 10 | 2 |
| oat | 5 | 5 | 58 | 11 | 3 |
| buckwheat | 5 | 2 | 59 | 11 | 3 |
| barley | 5 | 2 | 68 | 9 | 2 |
| maize/corn | 10 | 4 | 70 | 9 | 1 |
| rice | 10 | 2 | 63 | 8 | 5 |
| millet | 15 | 3 | 59 | 13 | 3 |
| canary seed | 10 | 6 | 52 | 15 | 6 |
| hay seed | 10 | 2 | 55 | 6 | 2 |
| sunflower seed | 1 | 54 | 6 | 20 | 2 |
| hemp seed | 1 | 30 | 20 | 23 | 2 |
| flax seed | 3 | 35 | 21 | 14 | 6 |
Text by: Lotta Ahlfors & Kaisa Kattilakoski